Craft shows are a beast of their own. They require hours of turning wood lathe projects weeks before to beef up inventory, booking tables, packing product in bubble wrap and often convincing a partner to put a weekend aside to help you at your booth – but are they ever worth it! They allow artisans to explain to new customers face-to-face why they have the best custom pens by giving them the chance to teach shoppers about the skill of wood turning.  It often creates repeat customers and is the catalyst for word-of-mouth sales. So, if you're going to go through the effort of becoming a vendor at a craft show, maximize your time there by maximizing your sales! (Also, more income means a bigger pen kit allowance – Halleluiah!) We've got some tips to make that happen.
Aesthetics- Make your table stand out!
It is common to hear conversations of passing shoppers in the aisles of craft shows, and if it's your booth they're talking about you've hit the lottery. Become the talk of the craft show by creating a table that draws people in and makes them want to check out what you have to offer. Even if you have a small surface area you can take advantage of your table by playing with vertical space. Use props like wood boxes and upright vertical pen display stands to maximize space. This way, you can display as many finished pens as possible. A full table will attract more customers. Use different stands to separate your best ballpoint pens from rollerballs and fountain pens so customers can better narrow down what they're after.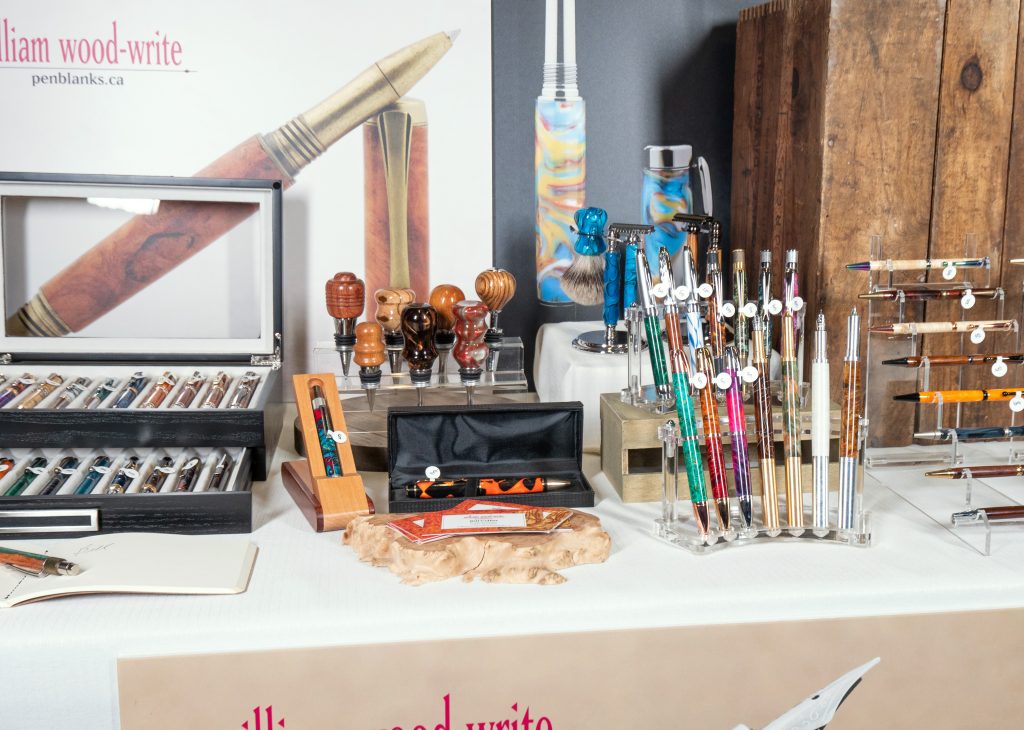 You can also organize your finished wood pens by price range. We can tell you right now the lower price ranges often do the best. This means shopping from our Budget pen kit line and acrylic pen blanks is key. Shopping weekly specials or using volume discount pricing will also make a huge difference by allowing you to keep your prices low without absorbing the costs yourself.
Make things obvious. Putting price tags on each item will take away the awkwardness sometimes associated with asking for a prices. Offer a variety of items with a wide range of price points so you have something for every budget, like acrylic pens, ballpoints and fountain pens. Display more expensive items like rollerballs or fountain pens in a display case or box to set them apart as a higher end option (also a great option to keep pens safe for travel to and from shows).
Draw em' in
Craft show shoppers are food motivated. Okay, maybe that's a generalization. But seriously, offering candy on your table will draw people in. If there are kids wandering around you can bet your butt they'll drag their parents over. Sometimes you have to play dirty. KIDDING!
But offering something to snack on at your booth will entice shoppers to wander over and in turn get more eyes on your products. Typically, out of politeness, shoppers will ask questions in return for your candy and that's your chance to hook them! Explain what you do, how long it takes and show them how great it looks in a gift box or how classy a Calligraphy pen or Capstone Gift Set looks when finished and ready to wrap.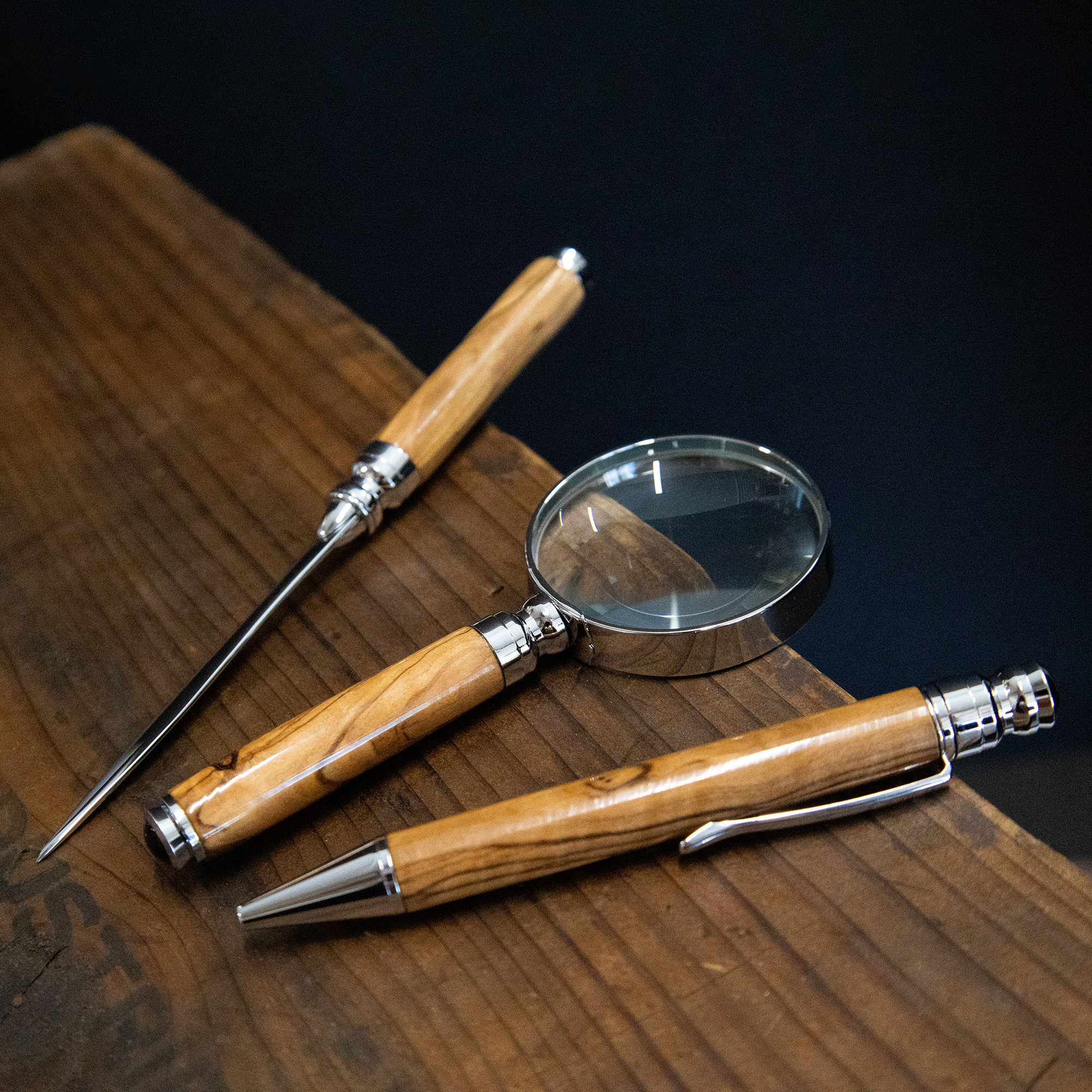 The 2 or 3 piece Capstone Gift Set
comes complete with gift box
Make it hands on
A wood pen is a tactile thing. People are hands on and they're going to want to take their potential pen for a spin before purchasing. Scatter scratch pads around your booth and encourage customers to try out several different styles. Customers will see firsthand why the rollerballs are double the price of the ballpoints and show them which styles are the best pens for writing. Use the time they're spending doodling to offer a custom turned pen, explaining the unlimited potential for pen blank and pen kit combinations. Keep those tables stocked up too! Have extra inventory on hand so your display doesn't become sparse as pens sell. It may even give you the opportunity to offer a customer an "exclusive" pen that's perfect for them that isn't yet displayed on your table. People love exclusivity.
Another huge selling point is a fountain pen. Even if it's not a kit you typically dabble with, fountain pens are key. They're nostalgic for the older shoppers who remember learning to write with them in High School and haven't tried them in 30 years. They're exciting for the younger generations who have never tried them before, and they appeal to the artsy crowd who see handwriting as a hobby. It gives shoppers another thing to do at your booth and it prompts conversation.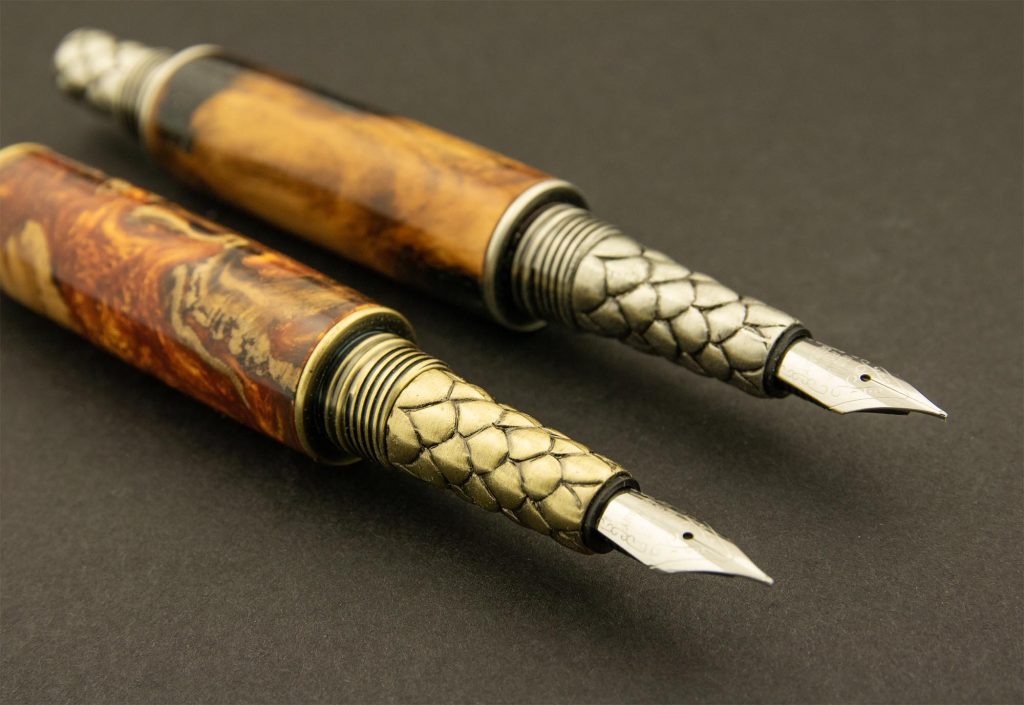 Sell them on the process
While their chomping on that candy and playing with calligraphy pens, tell them about how each wood pen is turned on a lathe. We once saw a customer display of a wood pen blank at each step in the turning process. It showed what the pen blank looks like during cutting, drilling, turning and finishing. It quickly illustrates to potential customers the care and craft put into each one of your pieces and immediately adds value. The conversation is a good segway into explaining the value of your exotic wood pen blanks, why burl is so precious and why 5600 year old carbon dated Ancient Bog Oak or certified Bethlehem Olivewood is a super cool thing to have a pen made out of.
It's not over when it's over
Don't let people forget your name! And even if customers don't have the best memory, you can send them home with marketing materials, like business cards. Make them colourful and readily available for potential repeat customers. Have them all over your booth so customers don't feel shy to pick them up. You'll be shocked how many people will reach out afterwards to place a custom pen order with you. If you offer a "craft show special" on those business cards for 10% off a future custom order, you'll see even more sales roll in when the weekend is over.
Once you have one craft show under your belt the rest will be a breeze. After the first day you'll hit a stride and conversations with customers will become very natural and easy. You'll learn what key points sell customers and getting the sale will become easy as pie. For more tips on how to sell your products online after the craft show, check out our series here.
Subscribe to our newsletter to get all the deals! We promise we won't bother you – only one email a week on Sundays to enjoy with your morning coffee.