With endless styles of pen kits out there, a good way to narrow down your next project is deciding between a rollerball or ballpoint pen kit. Not sure what the difference is, or which is the best pen for your writing style? Here are a few easy ways to tell which is best for you.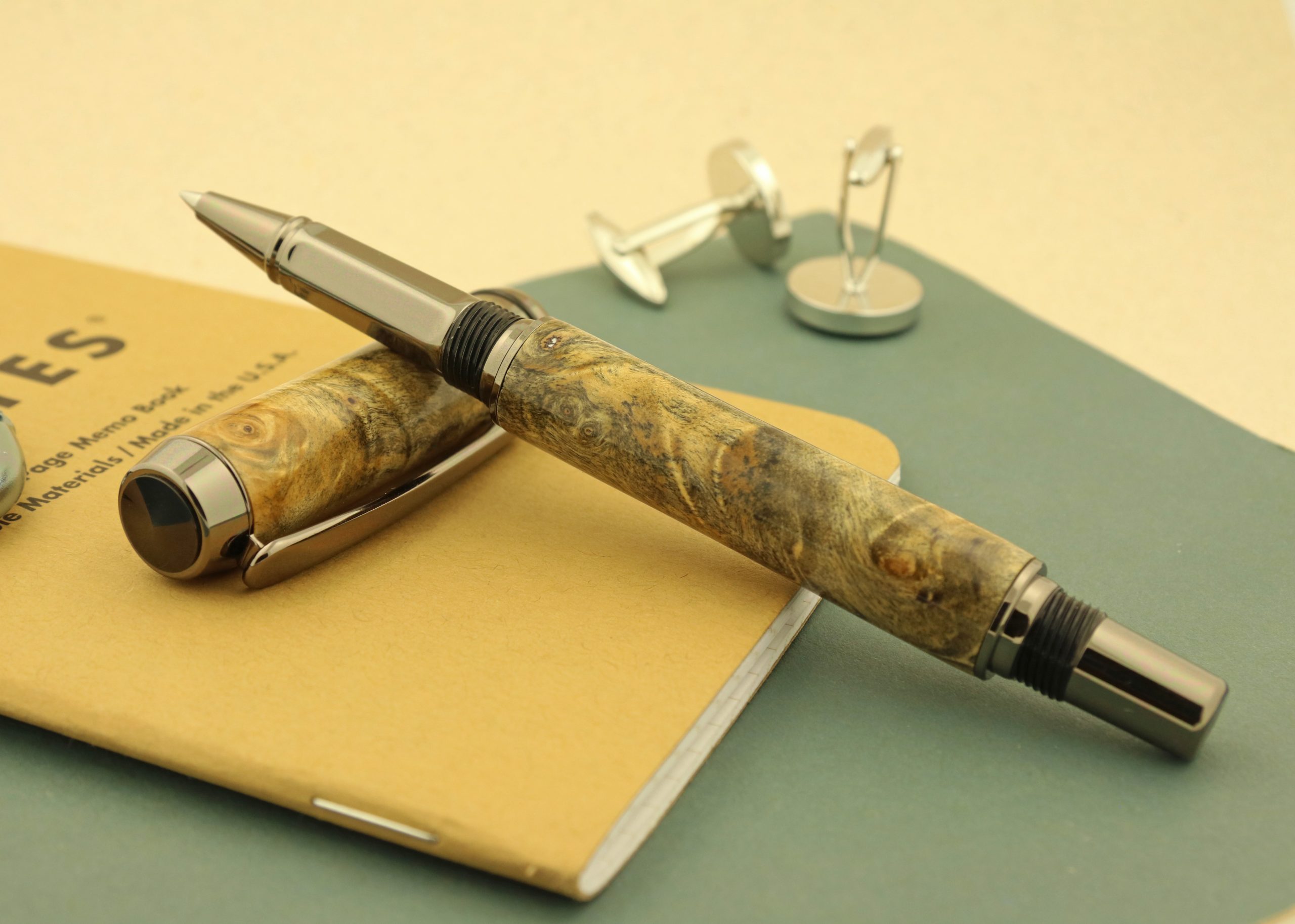 No matter what you choose,
William Wood-Write has the styles you'll love
Ink Refills
A rollerball is the best pen for a more formal look. This is because they use a water-based ink, making your lines bolder and more defined, requiring less pressure to create a consistent line. The ink flows across the page and looks visually different, making rollerballs great for handwriting personal notes and cards. The Baron pen kit is a very popular rollerball style for its medium sized barrel, making it a great first kit. Just know, this style sometimes requires a bit of "warming up" of the refill before the ink begins flowing smoothly after a long break between uses, unlike a ballpoint which won't give you a hard time. These refills also have a shorter life even when stored properly and used regularly.
Ballpoints on the other hand have an oil-based ink refill, which extends the life of the ink and produces lighter and more fine lines. The ink dries very quickly, making it the better pen for left-handed writers and a better choice for quick writing like lecture notes. The most popular and economical ballpoint pen kit is the Slimline. Our personal favorite is the Luxor, built with an all-metal German Schmidt click mechanism.
Ballpoint kits take a Cross or Parker style refill, both of which are very easy to find. If you're looking for a writing style right between rollerball and ballpoint, going with a ballpoint pen kit and upgrading the refill to a gel style will give your ink that bolder look. Just keep in mind only ballpoint kits that use a Parker refill can make this change!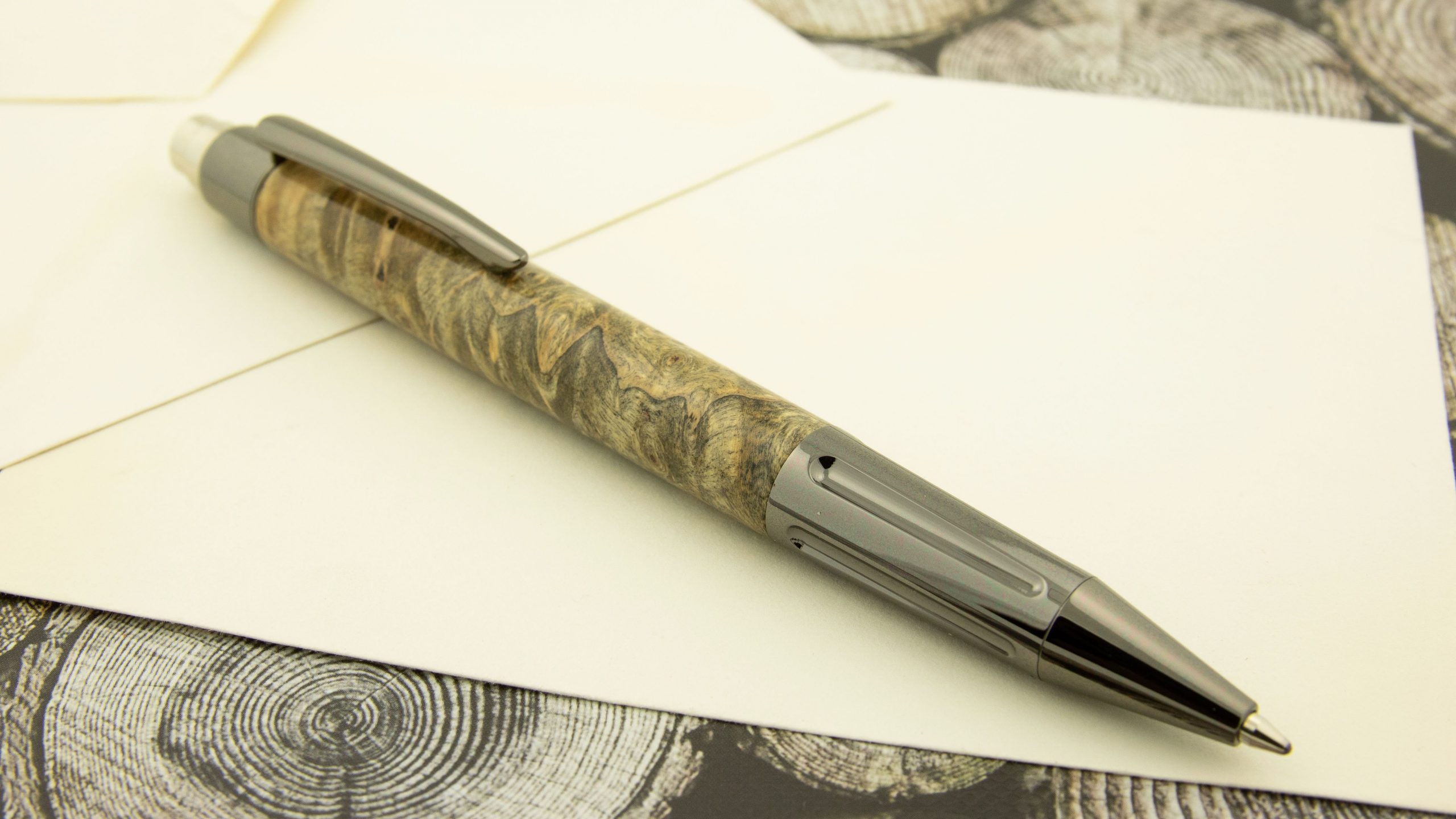 Tooling & Barrel Sizes
If you're still not sure which pen you want to turn on your lathe next, consider if you'd prefer the look of a single or double barrel. Rollerballs will always be a double barrel since they require a cap. These two barrels are typically two different sizes, which requires two different drill sizes. If you've got lots of tooling on hand, go for rollerball! If you have limited tooling and you're still dipping your toe into the waters of pen turning maybe opt for a ballpoint.
Rollerballs almost always use a larger drill, which can mean less margin for error when drilling your blank. Larger drills and pen mills are often more obscure, with a shorter list of kits that use these sizes.
Many ballpoints however will use 7mm, 3/8 and 8mm drills. That means little tooling investment will give you the potential to make a ton of different styles. Check out our drill chart to see what kits you can make based on the drills you already have.
There are many single barrel options our there when it comes to ballpoints too, cutting down your working time significantly. Their smaller diameter and lighter weight typically makes them the go-to design for women as well.
Kit Design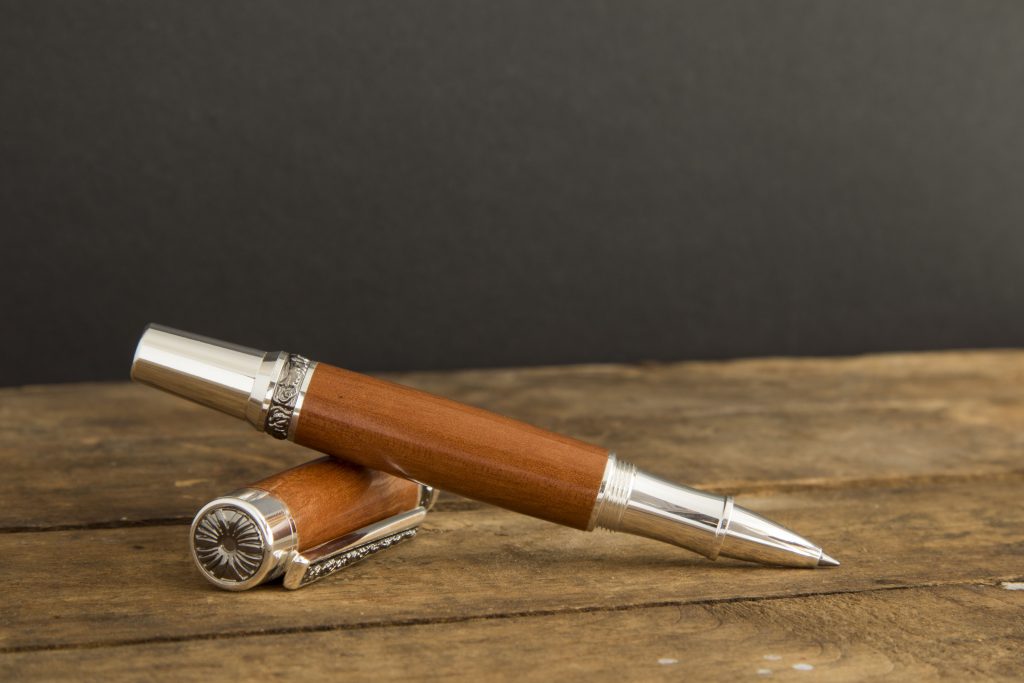 Rollerball kits on average are more expensive because of their more elaborate and embellished designs. Of the two, rollerballs are more likely to offer upgraded plating styles. The Canadiana Rollerball for example uses silver and black titanium rather than a standard chrome. As we touched on before, rollerballs will have a cap as part of their design, increasing the weight of the finished pen. If your cap is postable, screwing on or off the cap will change the weight of the pen to your preferred writing experience. Caps create a more formal looking custom pen and are often the top choice for gifts.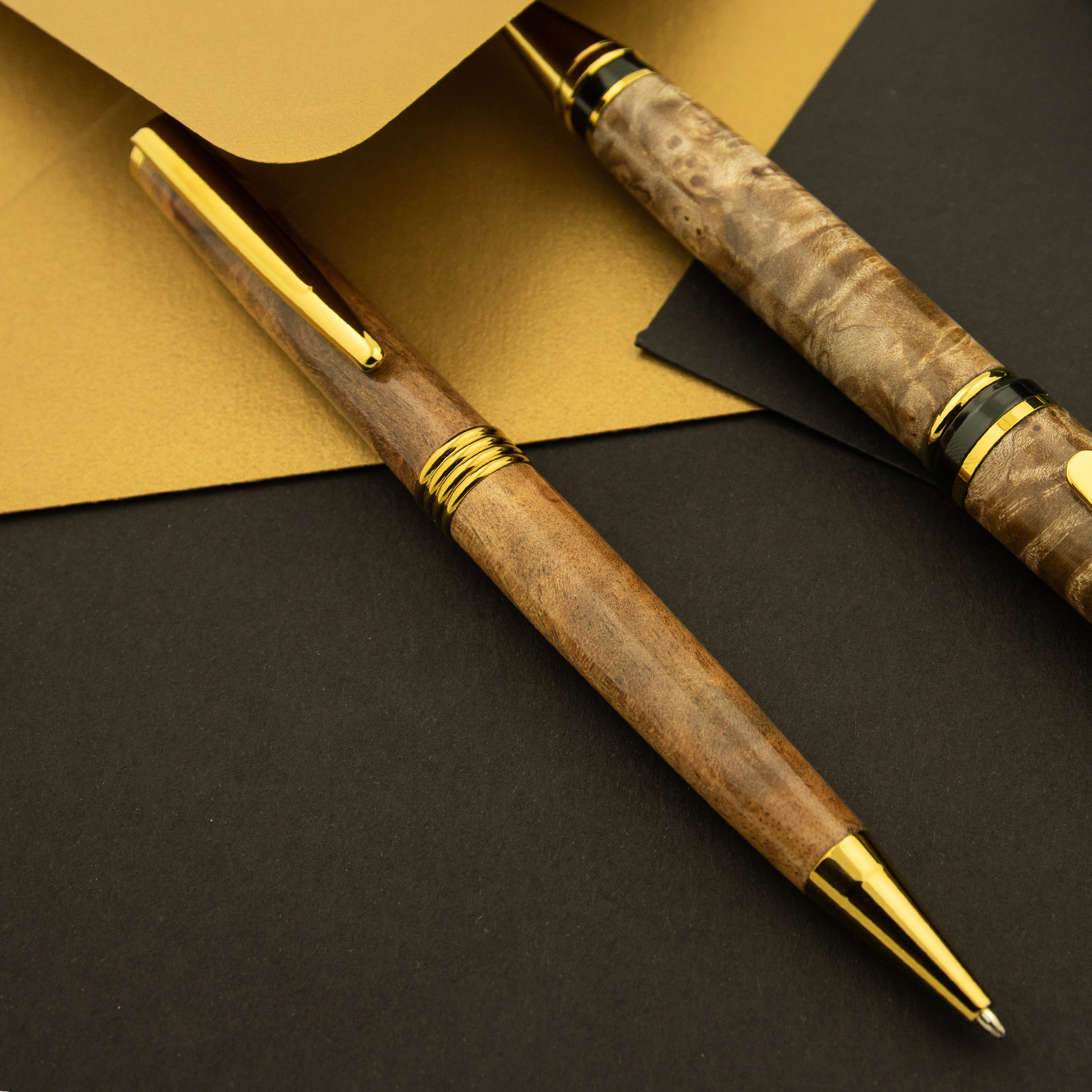 If you prefer the look of a cap-less or click pen, look for a ballpoint. Click pens will always have ballpoint refills since they're exposed to air even when retracted. Consider what the pen will be used for before making your selection. If you're traveling or keeping the pen in your pocket, go with a lightweight ballpoint twist. With a twist pen there's no chance of marking up your pockets by extending the refill and your ink will be temperature resistant, so it won't leak or explode if traveling on a plane or exposed to extreme heat or cold. A best seller here at the shop is the Streamline, available in Titanium Gold and Blue Titanium only at Penblanks.ca
Pricing
If you're leaning towards a rollerball but wanting to keep your budget in check, the Algonquin is the perfect kit for you. It has an ergonomically designed nib, postable cap and comes in standard platings like chrome and gold, but is also available in more high end platings like rhodium. This way you can give the style a try at a great price and try a more upgraded plating in the future if you like what you see! Rollerball kits range from $6.99-$72.99 per kit. If you want to try a rollerball but prefer to keep the price point low before you fully commit to the style, try the Snap Cap in chrome for $6.99. Its design is reflective of a ballpoint because of its slim barrel and casual design, but will give you the flowing lines of a rollerball.
If you're convinced a ballpoint pen kit is for you, you'll have the largest variety with prices ranging between $2.99-$46.99. Because of the economical price, we recommend new turners start with ballpoints like the Budget Comfort, a kit that's included in our Starter Kit Plus. A popular mid-range kit is the Cigar, starting at $6.99 for our chrome pen kit and going up from there for our two-tone and blue titanium platings.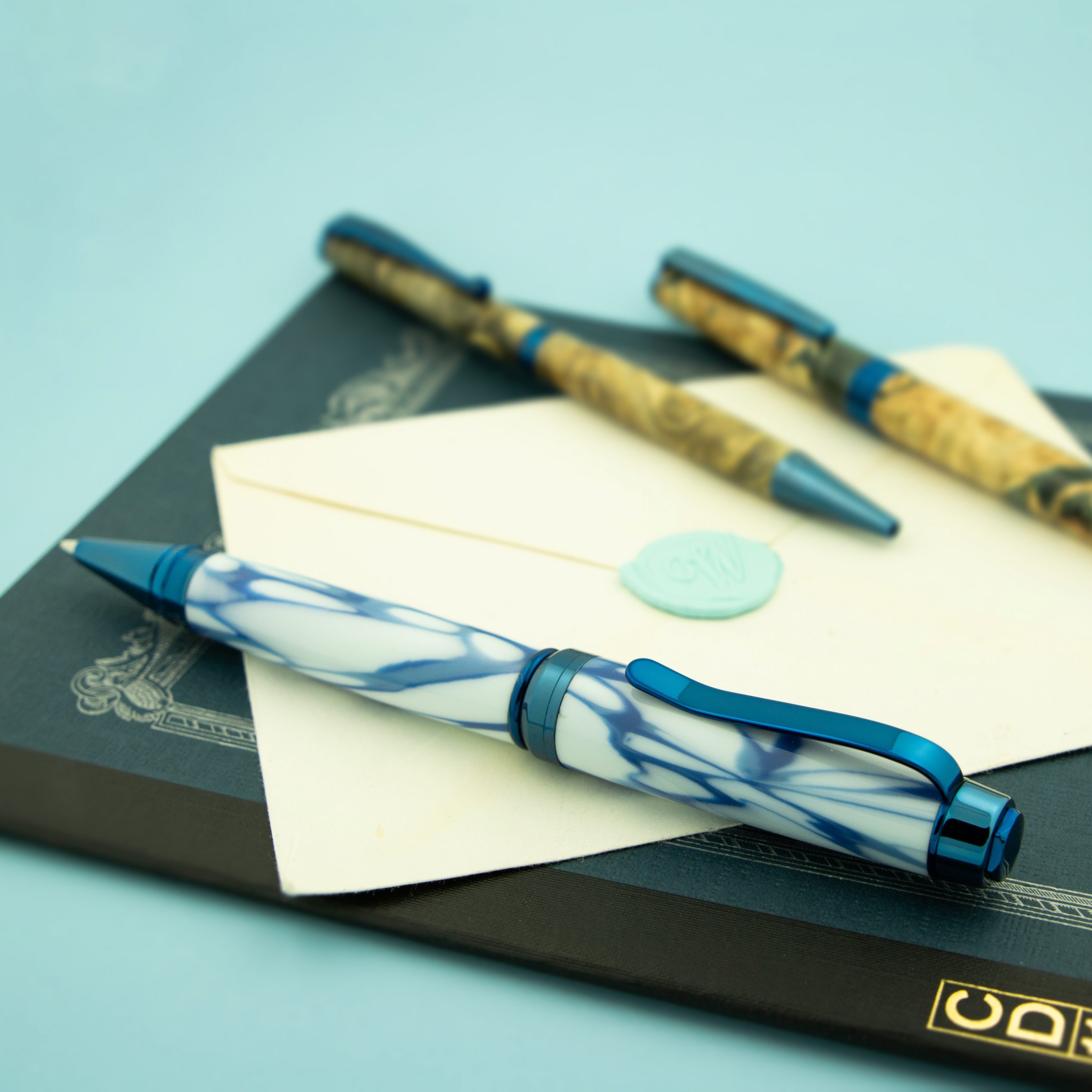 Find the Cigar in blue titanium only at WWW
For your next wood lathe project, try the style you've never spun before. At our shop we all keep both on hand, switching between the two styles depending on the use. Having a rollerball and ballpoint in your repertoire keeps both novel, so you enjoy the experience every time you pick up your custom pen.
Subscribe to our newsletter to get all the deals! We promise we won't bother you – only one email a week on Sundays to enjoy with your morning coffee.