One positive outcome of the Pandemic is that it has brought our country together and urged so many to shop Canadian and support local. You'll be happy to know that William Wood-Write is not only a Canadian wood turning supplier, but we also design and produce many of our pen and project turning kits here in-house. So, if you're feeling an extra dose of patriotism today and insist on buying from your fellow Canadians (thank you), you can feel good about the following products while sipping on your maple syrup.
Fusion Pen Blanks
These hand-poured beauties have been in high demand since we launched the very first pen blank, "Autumn" fusing stabilized maple burl and deep bronze acrylic resin. The shop has been "casting central" ever since, mixing mica powders, pouring Alumilite and filling blank casting molds that sell out as quickly as we can cast them. Upwards of 60 fusion combinations have been created with exotic woods like buckeye burl, maple burl and box elder burl. The stabilization is done in house with both clear and vibrant coloured cactus juice resin.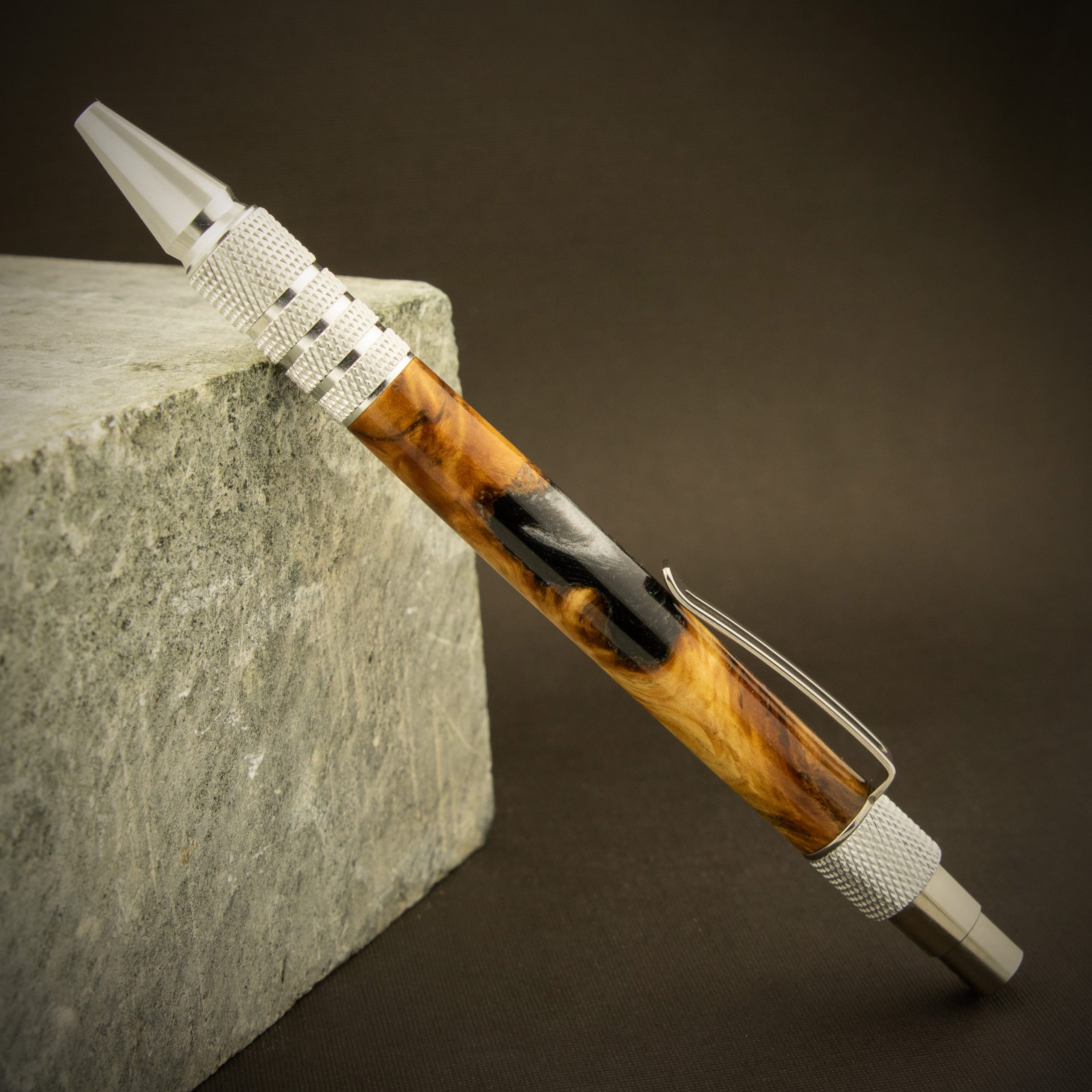 Not only are these pen blanks created and hand-poured in Canada, but they're also made with burl bought from a Canadian wood source. Double whammy. If you ever have a chance to stop by the Wood-write shop in Ontario you'll most likely find the girls pouring a batch of sparkling resin and filling 4 pressure pots in the morning and afternoon.
The Fusion pen blank line has expanded to include hand-made live edge turning project blocks, knife blocks, bottle stopper blanks and 1" oversized pen blanks using endless hybrids of wood and casting resin.
A little insider tip, a CA finish on these bad boys looks unreal. You'll be blown away by how much the resin sparkles when topped off with HUT Ultra Gloss. If you don't already have a CA finishing bundle, you can save some coin on everything you need here. And if you can't stand the stank of CA glue and prefer the odorless version, we've got that too.
JDG Ring Cores
This precision project comes from the same province as yours truly. The JDG two-piece ring cores are designed, manufactured and distributed in Russell, Ontario. This turning project is on the verge of exploding, taking the classic art of woodturning and fusing it with modern wearable projects. The original ring turning projects comes in 3 widths and are available from sizes 4 to 16. These are stainless steel and hypoallergenic, rust-resistant and very durable.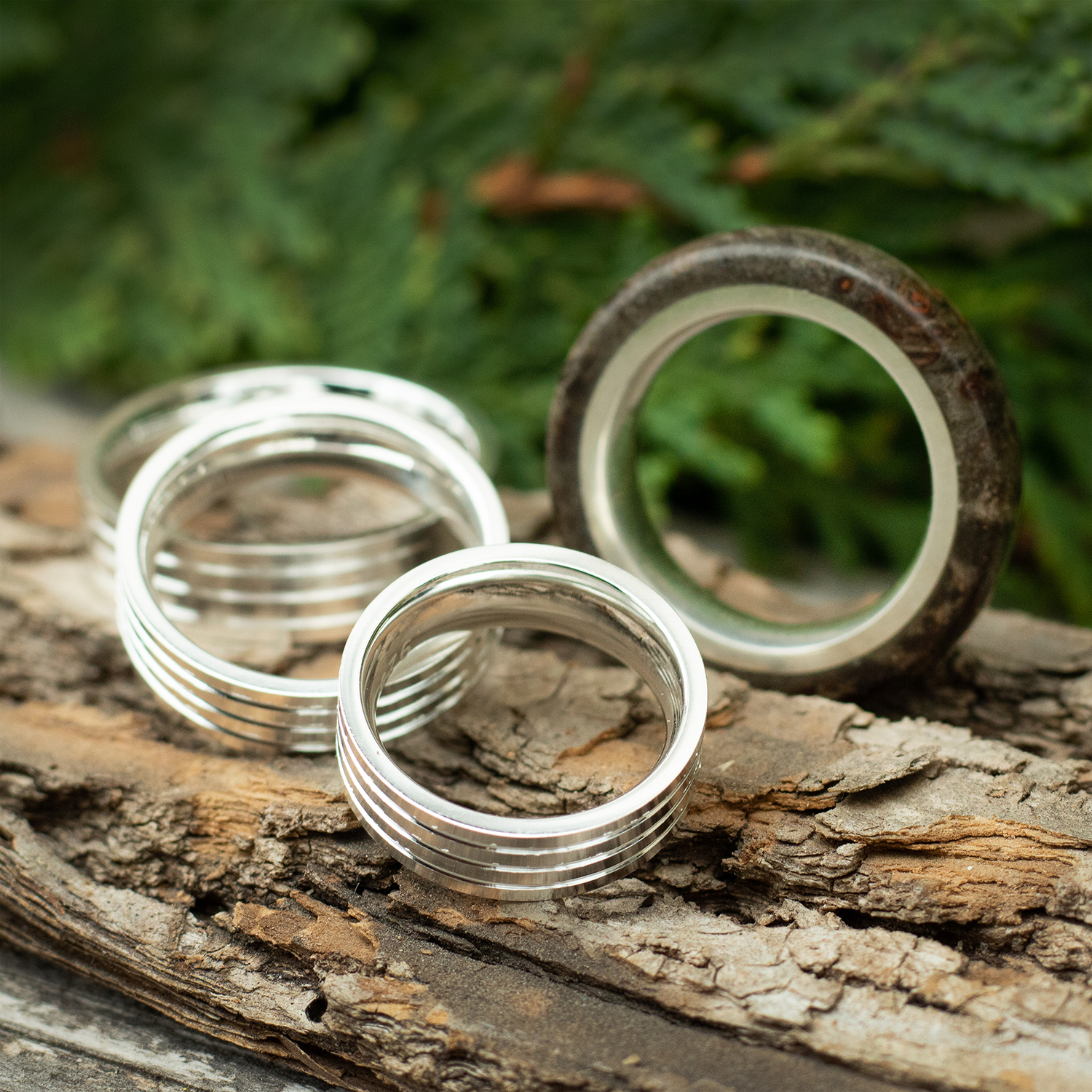 For those snazzier Canadians (we're looking at you, Toronto) solid sterling silver is also available, so wood and fine jewelry can co-exist in one timeless piece. If you're all hyped up on your XL Tim Horton's double double and you're inspired to get into ring turning, grab one of our ring making bundles to save a few loonies and be assured you're supporting local.
Luxor Pen Kits
And of course, we're going to talk about this pen kit. Quite a few kits from our line up like the popular Capstone Gift Set have been designed by our fearless leader, our grande fromage, Bill. The Luxor is probably the pride and joy of the lot, with its all-metal Schmidt click mechanism. The kit was designed by Bill with the help of Chantelle (our stellar photographer and graphic designer) was brought to life over months of engineering. It has been his everyday carry since it hit the shelves of Wood-Write, currently paired with a piece of Curly Koa that once sat for 10 years in his hoard of pen blanks waiting for the worthiest pen kit to come around. With 6 platings, you'll find the one that speaks to you too and we can all begin to decrease the size of our secret pen blank stash we have squirreled away.
Eros Calligraphy Pen Set
The same goes for our one-of-a-kind calligraphy set. The Eros Calligraphy pen was dreamed up and designed by Chantelle, available as a calligraphy kit on its own, or in a beautiful Calligraphy Gift Set with varying nib sizes, ink cartridges and ink pump. For handwriting enthusiasts everywhere, this lathe turning project fulfills Pinterest dreams and is the biggest seller to international customers, since nothing else quite like it exists. If you're not using an Eros Calligraphy pen, you may be a hoser.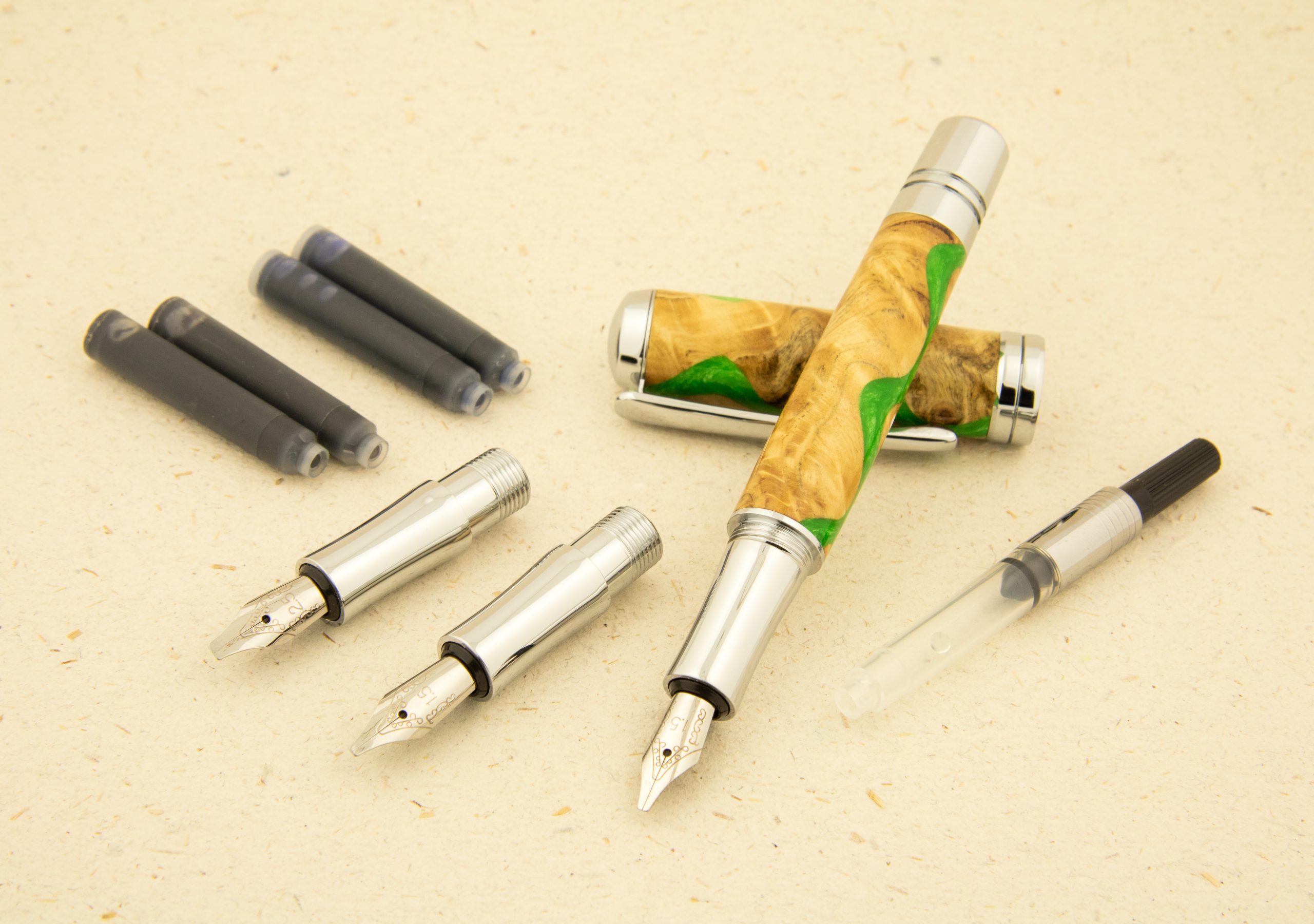 You won't find this
anywhere else
Designed in Canada, exclusively at William Wood-Write
Maple Leaf Pen Kit
What kind of Canadians would we be if we didn't bring up the Maple Leaf twist pen. Unbeknownst to most, this design is a Wood-Write exclusive designed in our home and native land. Although the maple leaf details on the kits center band are subtle, they are very much there and very much patriotic, available in twist pen kits, click pens and click pencils. They're a favorite with our customers and the line is ever-expanding, with 14 variations currently in stock (with another releasing very soon!). Writing with the Maple Leaf is the next best thing to putting on a Canadian flag like a cape every morning. Maybe more stylish.
So, if you're looking to keep your spending power in your home country, we've got you covered. With Canadian designed products, sold by Canadians with some of the lowest prices across the country, you can feel good about what you're adding to your cart.

Subscribe to our newsletter to get all the deals! We promise we won't bother you – only one email a week on Sundays to enjoy with your morning coffee.