Pen turning can be a bit daunting when you're first starting out, so we at William Wood-Write are here with 5 tips and tricks that will make sure you turning project comes out perfectly! While we could go on forever listing tips for a perfectly turned project, we've come up with a list of the 5 tips we consider most important (and most effective!) when it comes to pen turning.
1. Avoid Heat and Be Productive
Once you begin the process of drilling your blank to prepare it for the brass tube to be inserted, it is especially important to take your time, letting your blank cool off in between steps. Make sure you allow the drill to move in and out several times to avoid heat build-up on the drill, or else you run the risk of burning the inside of your blank (or cracking it altogether). This is especially true for acrylic blanks.
Another useful tip to minimize heat and maximize productivity when drilling your pen blank is to, while your first barrel is cooling, utilize this time to scuff the outside of the tube with sand paper and plug the ends of your tubes with baseplate wax. Not only it is important to scuff the tubes to create a rough surface for the glue to adhere to, and a time saver to make sure your drill work turns out perfectly.
2. Move That Micro Mesh
The next tip we have for you is to utilize your micro mesh when sanding your barrels! While sanding with micro mesh may seem like a straight-forward process, there are things to consider that can affect the integrity of your final product. We like to opt for sheets over pads while using abrasives like micro mesh in order to have more control over your pressure. Try folding the sheet lengthwise and creating very slight tension on the turning barrel by pulling on either end back and forth down the length of the barrel. This avoids any dull patches that may arise caused by inconsistent pressure. This technique works especially well on dark woods to get a high shine paired with a CA finish.
3. Non-Stick Bushings Are Your Best Friend
While steel bushings may seem like the more dependable option for turning your blanks, using non-stick bushings can actually result in a better final product during the final steps of finishing. If you're turning a light colored wood in particular, like Holly or Birdseye Maple, trade out your steel bushings for non-stick bushings right after sanding with abranet and bringing your blank flush to the steel bushings. Using micro mesh and steel bushings can cause dirt and grime transfer that may show up on fair woods. This can sometimes be the case for acrylics like Poly Resin. Non-stick bushings will maintain the true colour of your blank and keep it free of blemishes – just be aware of how much material you're taking off, since you no longer have a bushing guide.
4. Don't Get Into a Sticky Situation
CA glue can seize your tube midway into your blank in the blink of an eye, leaving you with a very sticky problem to fix. If you know you need the extra few seconds to minimize the risk of your tube adhering prematurely and in the wrong position, glue one tube at a time using two thin lines of glue rather than one larger puddle. In addition, make sure you always twist your tube on the way in so as much of the tube as possible is covered in glue. We like to reach for either StarBond Thin CA or E-Z Bond Thin CA.
5. No More Pen Mill Problems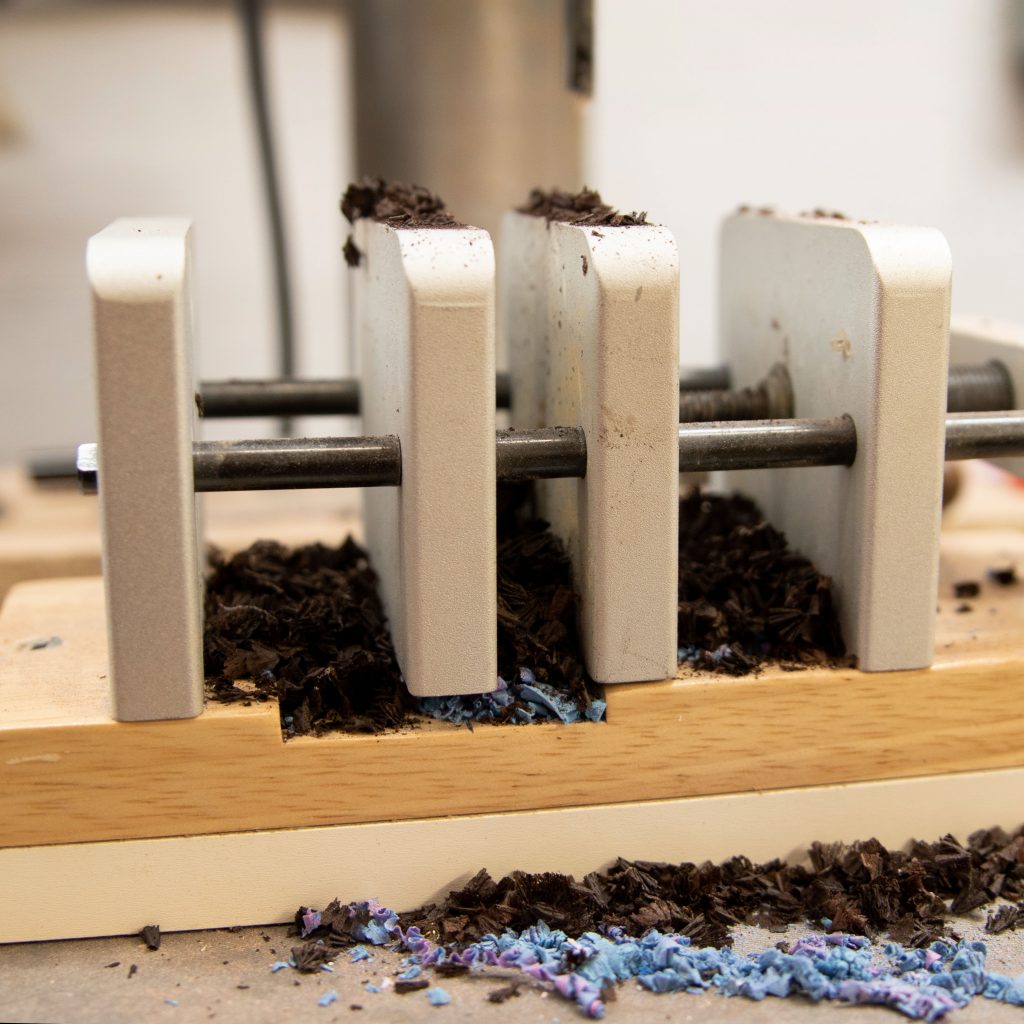 Pen mills, also know as barrel trimmers, can be tricky to deal with. Pen mills are used to remove and square up the excess wood at the end of your blank after the brass tube is glued inside of it, but removing too much or too little material can ruin your final product. Avoid crushing or sheering your tube by clearing it of glue and wax with a transfer punch before milling, and always remember to line up your pen mill and test the alignment with your tube before starting up your drill press. Having a clear tube before milling ensures this step is done as accurately as possible- especially important for click pens that require exact tube measurements. Finally, hold your center vise firmly and start your drill press with the pen mill slightly inside your tube to ensure a perfectly cut barrel!
We could go on and on when it comes to turning tips, so make sure you're subscribed to our Instagram & Facebook, where we post these little nuggets of knowledge often. There's always new projects and techniques to try, and room to perfect the art of pen turning. William Wood-Write is here to help you with just that.
Subscribe to our newsletter to get all the deals! We promise we won't bother you – only one email a week on Sundays to enjoy with your morning coffee.