Do you ever find yourself in a fluster when you can't find the tool or item you need? Do you find yourself ruining a project because you're not organized? Leave that in the past by following these top tips to help you keep your shop organized. 
Storage for turning tools
Whether your shop is new to you or has been around for decades, organization is very important. Setting up some peg boards and investing in toolboxes will be one of the biggest kick-starts to your organization-spree. A peg board can help you hang up your tools, so they're easy to find and you know what you've got available to you with a single look.
It's as simple as screwing a peg board into dry wall and picking up a few hooks compatible with the holes on your board. If you're looking for more in depth installation directions, check out this article from Home Depot. For tools without holes in the handles, place two or more pegs beside each other and allow the tool to lay on top of the pegs.
If you prefer toolboxes as your storage source we highly recommend tool boxes on wheels. Re-organizing your shop becomes as easy as pushing your toolbox around to fit your project at the time. If you're working on several pen turning projects in a row, roll over your pen turning box. If you're trying your hand at peppermill turning, grab another box with your chucks and project blocks! Using a toolbox will also help keep your tools clean from all the sawdust that will inevitably be flying around your shop. Utilize the drawers on your box to organize and separate your pen turning supplies in stages. For example, drawer 1 as pen kits, drawer 2 as pen blanks, drawer 3 as pen mills, cutterheads and drills, drawer 4 as bushings, chisels, turning abrasives, wood finishes and so on.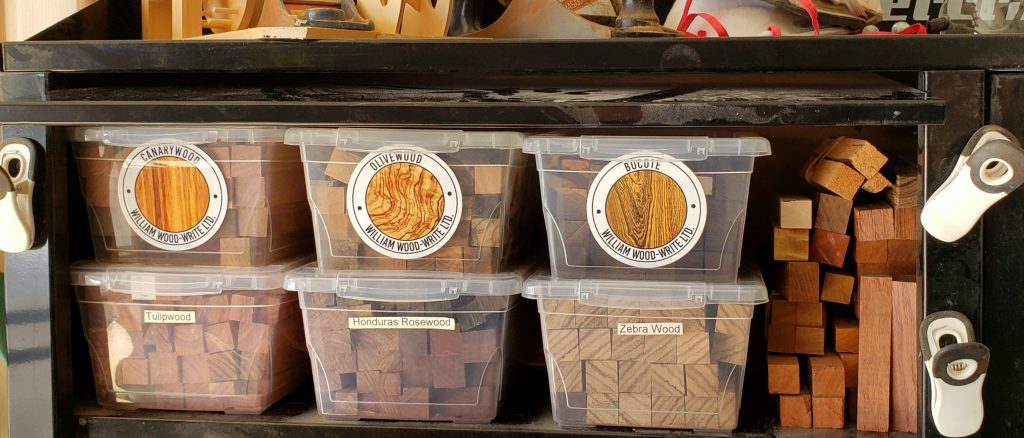 Label your pen turning supplies
Second to storage, the most important part of organizing would be, LABEL! Labeling will ensure tools don't get lost, so you can always expect to find them in the same spot every time. No more second guessing.
If you've got a visitor to your wood turning shop, labels will make the job quicker, saving time otherwise spent searching endlessly through drawers. Grab a hobby label maker from Staples or use marker and white magnets so you can move your labels around as you re-arrange over time.
Or copy this idea from our pen turning customer Paul Fournier! He used our FREE WW Sticker Collection to sort and identify his exotic wood pen blanks- and they look good too!
Bushing stands
Out of all of the tooling a pen turner keeps in the shop, bushings in particular have a habit of disappearing themselves. That's why we've created the Bushing Storage Stand. It comes equipped with acrylic stand, 15 bushing storage tubes, caps and labels for quick identification, making for easy grab and go. No more double-buying bushings!
Bushing Storage Stand $19.99
Post-turning clean up
When you're finished turning for the day, take the time to clean up the wood shaving using a shop vacuum. We highly recommend the DeWalt portable wet/dry shop vacuum. Like other DeWalt tools, you can charge the battery for the machine, making for easy cordless cleanup! Keeping your shop floor spick and span will prevent loosing pen kit parts in piles of dust. A common problem of the pen turner.
These are just a few tips, there are plenty more ideas to keep your shop organized online. Pinterest is your friend here! And remember, a more organized shop means more room for new tools. Shop our New Products section for some fresh inspiration.
Subscribe to our newsletter to get all the deals! We promise we won't bother you – only one email a week on Sundays to enjoy with your morning coffee.